Discover more from The Line
Commentary for Canadians.
Over 22,000 subscribers
Robert Jago: WE is shutting down its Canadian operations. Good.
Think of all the donations that will now be free to flow directly to the people who need it most.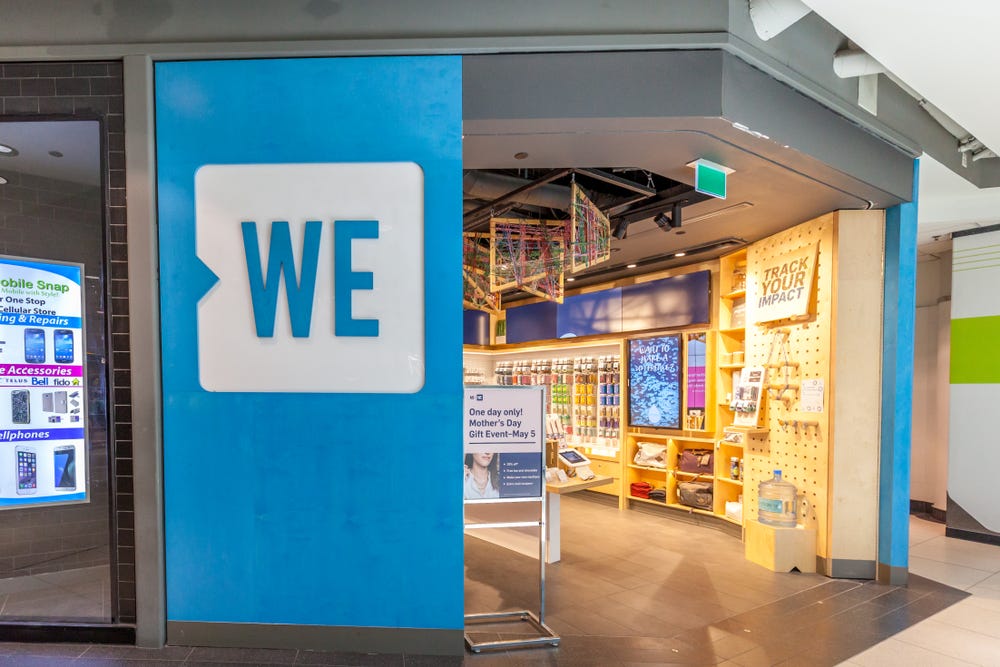 By: Robert Jago
Earlier this month, the Canadian arm of WE Charity — the child of Craig and Marc Kielburger — announced it would be ceasing operations in Canada. The announcement came in the form of a press release, which stated:
"There will be no new schools, water or agricultural projects, and no expansion to new communities in the nine countries where WE Charity is active. In Canada, WE Charity will no longer have staff to support educators to inspire and equip the next generation of community leaders, including no new curricular resources, youth service coaches, educational speaking tours, or the celebration-of-service event, known as WE Day."
This is pitiable. This is a press release stating, basically, that because of the mean people in the press and in Parliament, the Kielburgers are taking their ball and going home. Here's my initial response: Good. It's worrying that these people brought their values into our schools. If this is their level of maturity, I'm thankful they won't be given access to impressionable children anymore.
What takes this pitiable message to a whole other level is their statement that: "there will be no new schools" in Kenya, "no water or agricultural projects" in Ecuador, "and no expansion to new communities" in India.
It's a statement that makes it sound as if, without the Kielburgers, no one would be building schools in these countries. That's nonsense, of course. And, in fact, there are also questions about how much work WE Charity was actually accomplishing in these countries: A July 29th report by Canadaland included excerpts from interviews with former WE employees, who were asked to comment on WE spending. One former employee, speaking of WE's work in Africa, said: "Countries where we could run trips got more money than those where we couldn't. They had youth groups going [to Ghana] for a while. As soon as it wasn't profitable, they stopped. It was painful. It was so bad."
The reporting suggests that the charity took a back seat to WE's "for-profit" travel company, ME to WE. It even appears, from some former WE staff comments, that WE Charity was in the service of for-profit ME to WE.
However you might feel about this, ME to WE's business model as a tourism operator is brilliant — it's something that should be studied in business school for decades to come. Here's what we know about it.
WE's charitable arm "WE Charity" operates educational centres around the world. There is one in Kenya, others in India and Nicaragua, and until recently, one in Arizona. These education centres serve as hubs for both charitable work and for tourism. On the charitable side, corporate donors give money to sponsor development projects. These donors are attracted to the charity, we can reasonably assume, because of WE's image, presence in Canadian schools, and the reflected glow these things cast upon the sponsor.
With corporate donations in hand, the charity coordinated development projects in partnership with the sponsor. According to the WE employees cited in the above Canadaland reporting, that coordination can include the sponsor, rather than the people in the developing country, directing where the money is spent. So through the charity, if the reporting is accurate, WE develops infrastructure for tourism, and then then creates development projects that youth can volunteer at as part of their tourist program.
Voluntourism — the type of travel product ME to WE sold, which combines traditional travel with short bouts of volunteering — is a competitive industry. Travel providers specializing in voluntourism compete for development projects, and they compete for accommodation near those projects — the more you can secure, the more package tours you can sell.
WE's charitable work wasn't just about digging wells and building schools for people in developing countries. In some cases, it appears that Canadian youth helped build facilities for WE itself. The Facebook page of WE's shuttered camp in Arizona — the Windsong Peace and Leadership Center, features many pictures like this — of children from a Toronto girls boarding school, helping build the toilets for WE's ranch.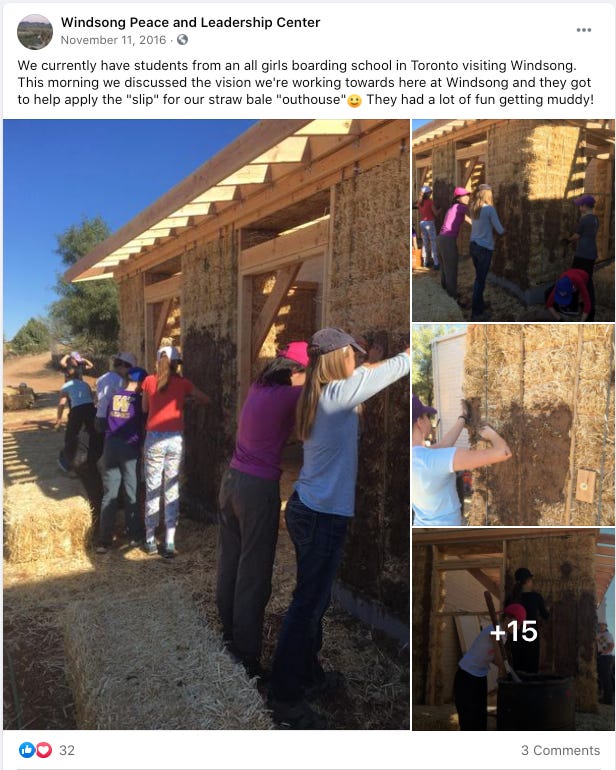 What a spectacular business model.
For the ethically sensitive, the saving grace of the WE trips is that volunteering to build their toilets took up a very small part of the tour. Education First, also called EF, is a Swiss-based youth travel agency, one of the biggest in the world. They are a reseller of ME to WE travel packages. Their website still features information about WE's Arizona camp. Here is the itinerary: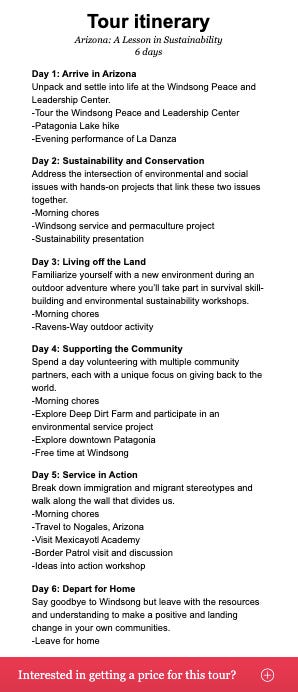 Other than regular chores around WE's ranch, there is only one day of volunteering — the children seem to spend almost as much time with the U.S. Border Patrol (normally a child would need to be interned in a dog cage to get as much time with Homeland Security's border force).
WE's Arizona ranch closed in 2018, however its operations in Kenya remain open, and existing facilities will continue operating with support from an endowment fund set up by WE with money received from liquidating its real estate holdings.
The Kenya operations, according to employee interviews and tax records, appear to be the largest and most important in WE's constellation of travel destinations. It's Kenya that former finance minister Bill Morneau visited, a visit that helped push the WE scandal to another level and may have contributed to Morneau's recent resignation. Morneau's Kenyan stay was at WE's Bogani Cottages compound, located in the Masai Mara region.
The Bogani Cottages made an early appearance in the press in 2013, in an article by WE's "Head of Storytelling, Editorial & Strategic Communications" Shelley Page. In a guest article about her experience working with WE, Page talks about the growth of the camp: "When I was last there, their centre had just opened, consisting of a large main building and six permanent tents to accommodate young people. [...] Bogani now has four cottages and 15 luxury tents."
Page first visited the Kielburger's Kenyan operations in 2004, then in her capacity as an Ottawa Citizen journalist. At that time, the Kielburgers were in the midst of a battle with the government over the construction of a centre in the region. The Kenyan government had rejected their request to build in the Mara region due to environmental concerns. The project was also opposed by local safari owners. But the Kielburgers lucked out when they were handed a lifeline by a Masai chief, Nabaala, who offered the organization his land and offered to protect them.
They took the land and began building. Their commitment to the Masai was to build a "dream project," including an education and environmental centre for Masai and Canadian children.
Today the Bogani lodges are described as "rustic yet luxurious." According to promotional materials online, the trips to the lodge include some education, some volunteering, but also language lessons, lavish meals, visits to sanctuaries, market tours, beading, hiking, and — what visit to the Masai Mara would be complete without it? — a safari.
In Page's reporting on the Kielburger's fight for this land, she writes that safari owners in the region opposed its construction because they didn't want the Masai people to be educated and, thus, to be able to demand higher wages from them.
Maybe the safari owners had more legitimate concerns than this.
In 2016, Toronto Star reporter Daniel Otis visited WE's Kenyan base of operations for a profile piece. Otis reported on this very disturbing exchange he had with Michelle Hambly, director of WE Villages (another part of the WE empire). Otis writes:
"I can't help but ask her if it wouldn't be more helpful to have would-be volunteers simply donate the thousands of dollars it costs them to come out here. 'Sure, maybe it would have been easier to write a $5,000 cheque,' she says from a breezy pavilion where we're served lunch. 'But then, from the actual experience — what they've gained and how that's changed and how they lead the rest of their lives and how they choose to give back for the rest of their lives — actually, exponentially and financially, it's far much more worth it to invest that initial money in actually coming on a trip versus just giving the cash.'"
It is an upsetting thing to hear from a development charity: "it's far much more worth it to invest that initial money in actually coming on a trip versus just giving the cash." How can anyone read that and not conclude that the volunteering that WE arranges is more about the person volunteering than the person being helped?
In a July 25th article in the National Post, Nicolas Moyer, president of the Canadian Council for International Co-operation (CCIC), describes volunteer-centred spending as one of the pitfalls of voluntourism programs: "There's many risks that voluntourism, if not set up properly, will focus primarily on the interests of the participants, not on the community where they're going."
ME to WE boasts of having arranged 40,000 tours for youth and corporate travellers. At a cost of $4,795 USD (approximately $6,300 CAD), that translates to $191,800,000 USD (approximately $252 million CAD). This is a rough estimate, and the actual number could be significantly different. But it's clearly a huge sum of money, and it doesn't include donations, or sponsorships or anything else — just tourism. Looking at the many GoFundMe pages of Canadian youth who have crowdsourced funds to go on one of these trips, that's cash that was raised with the intention of helping in Africa or India, or South America.
Instead, it's largely spent on travel, accommodation and experiences for Canadians.
It's money that is now free to be donated to Kenyan charities directly. To do what the WE staffer dismissed as "just giving the cash." Just giving the cash means that it doesn't go into a complex web of charities and corporations, it goes directly to those who need it. WE and everything around it is needless complexity when the end product should be helping people.
On its website, WE reports that it has built 1,500 school rooms since 2002. That's commendable.
However compare that with a lesser-known Canadian charity: Classrooms for Africa. Since 2008 they have built 395 classrooms in Africa. Classrooms for Africa's budget for the last five years was about $3.2 million total.
At their reported operating costs, and with less than 10 per cent of what was spent on ME to WE tours alone, Classrooms for Africa could build as many classrooms as WE Charity. And that doesn't include sponsorship money, government grants or anything else. 
While the Kielburgers go off and sulk, all this newly liberated money can be used to build more new schools than ever in Kenya, more new water projects, more new agricultural projects. As long as Canadians show more maturity than the WE organization, they can learn from their mistakes, put money where it works best and actually be the kind of person that so many flashy WE Days tried to convince them they were.
Robert Jago is an entrepreneur and sometime writer. He has previously worked in the youth travel sector.
---
The Line is Canada's last, best hope for irreverent commentary. We reject bullshit. We love lively writing. Please consider supporting us by subscribing. Follow us on Twitter @the_lineca. Fight with us on Facebook. Pitch us something: lineeditor@protonmail.com