Discover more from The Line
Commentary for Canadians.
Over 22,000 subscribers
Dispatch from the Front Line: False narratives, doomed statues and odd alliances
Police didn't kill Korchinski-Paquet — that doesn't mean reform is unwarranted. We also look at the toppling of Sir John A., and ask: "Do we really need less partisanship right now?"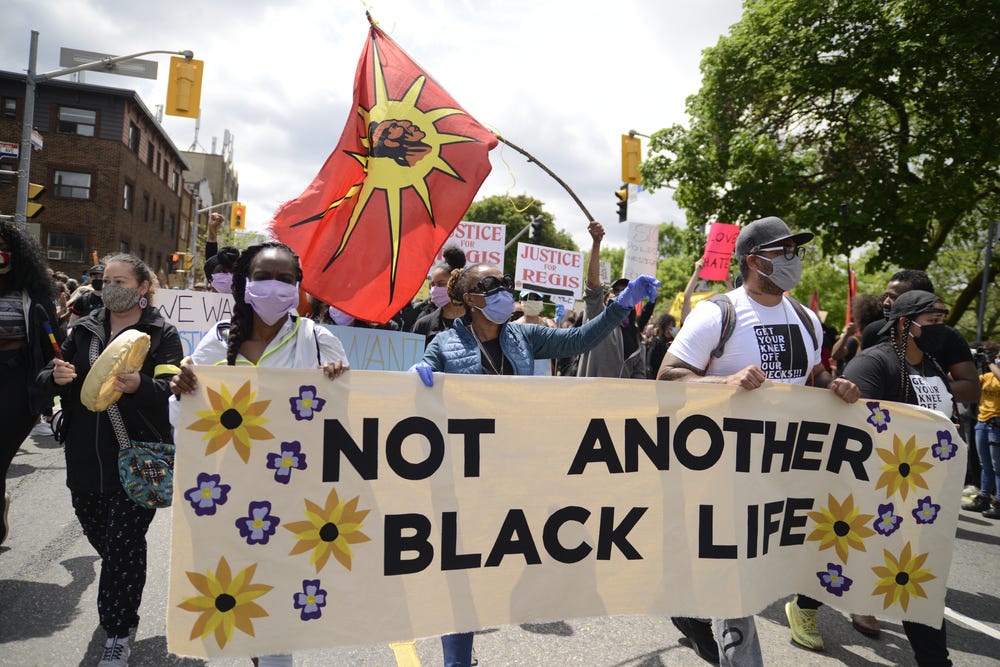 In May, a tragedy occurred in Toronto. 
A Black and Indigenous 29-year-old woman named Regis Korchinski-Paquet died after falling from a 24th-floor balcony in the presence of Toronto police officers. 
Police arrived at the scene in the middle of a fight between Korchinski-Paquet, her mother, and her brother. All three had separately called 911. Her brother told operators that his sister was armed with knives. Korchinski-Paquet had reportedly suffered seizures that day. As policed tried to suss out the situation, Korchinski-Paquet tried to leave, and was blocked by an officer. After that, she went to her balcony, closed the screen door behind her, and attempted to scale the barrier between the apartment and her neighbour's. She slipped and fell. Video caught the fatal impact with the ground seconds later. 
This horrific death would not have generated much attention in and of itself; accidents and suicides are common in every major city. But Korchinski-Paquet's death came shortly after the murder of George Floyd, who died in Minneapolis after a police officer kneeled on his neck for several minutes. Floyd's death set off a wave of righteous anger and protests in America. So, after Korchinski-Paquet's mother claimed on Instagram that her daughter had been shoved to her death by police officers, it's not difficult to empathize with the many Torontonians who took to the streets to protest racism in policing. 
Korchinski-Paquet became a home-grown martyr. Her death gave Canadians the opportunity to find catharsis and solidarity with protests in America. Many people clearly became emotionally invested in her mother's claim — that police were responsible for the young woman's death. 
But the police didn't kill her. 
We know this because Korchinski-Paquet's grieving mother later provided a formal statement laying out what happened that night in full, she didn't repeat the allegation.
We know this because Ontario's Special Investigations Unit (SIU) — an independent agency that investigates any incident in which officers are involved in a death or injury, or accused of a sexual assault — investigated the matter. Last week, the SIU issued a report clearing police of wrongdoing, citing numerous witnesses, recordings taken by police microphones and cameras, closed-circuit surveillance tape, and 911 call logs. 
Police did not shove Korchinski-Paquet off a balcony. She attempted to escape a tense situation, and then she fell. The evidence for this version of events is extensive. It was witnessed by two officers, a paramedic, and a civilian who was walking along High Park Avenue at the time of the fall. No one has presented a plausible alternative theory. 
Yet, rather than report the facts of the case we understand them, several media outlets responded to the extensive report by criticizing the SIU. In one example of this, the Toronto Star called the case: "one of the most divisive cases of police conduct in recent memory." 
It is not. 
That is, in fact, a self-evidently absurd statement given the Sammy Yatim shooting and the severe beating of young Black man, Dafonte Miller, by an off-duty Toronto police officer. The Star further noted: "the police oversight organization remains dogged with criticisms by community members, lawyers and academics alike." 
That is true. And we, at The Line, applaud investigations into problems at the SIU. But responding to this specific report about Korchinski-Paquet with broader questions about the organization's credibility — when there is no evidence of wrongdoing by police, nor of a cover up by the SIU — is a weaselly way of showing deference to a non-credible allegation of police violence.
Other outlets responded to the Korchinski-Paquet report by supporting the underlying critique of police; they mused about how the police could have behaved differently, or suggested that police shouldn't have responded to the call in the first place — that the complaint would have been better handled by mental health experts. 
Even these critiques don't hold up to the facts at hand. Korchinski-Paquet wasn't initially reported to be suffering from mental illness. In fact, when 911 operators asked her brother whether his sister suffered from any mental issues, he said no: she had not been diagnosed with anything beyond epilepsy. In her 911 call, Korchinski-Paquet was also asked whether anyone suffered mental health issues. She responded: "Me. Yes. I have epilepsy."
It was only after police arrived that Korchinski-Paquet's mother asked them to take her daughter to the Centre for Addiction and Mental Health for seizures — which the officers regarded a physical, rather than a mental malady. The young woman died about five minutes later.
In other words, the police were not initially called to Korchinski-Paquet's apartment on High Park Avenue to address a woman suffering from mental health problems — they were dispatched to a report of a possible domestic assault with a weapon. This is precisely the kind of situation that would require the presence of armed officers — even if we did defund the police.
We at The Line agree that police reform is badly needed. We also believe that  Korchinski-Paquet's unquestionably tragic death does not provide a clear example of why. 
---
Further to the file: "American trends we are replicating in Canada." A few days ago, the monument to Sir John Alexander Macdonald in Montreal was toppled and defaced by the now familiar assortment of anti-racist, anti-colonial protesters. 
This statue of Canada's first prime minister has long been the object of local disdain. It has been a regular target of separatists and Quebec nationalists who saw its placement — not incorrectly — as a leering symbol of Anglo-Canadian dominance. Yet, this time, even the separatists stood back, agog. To wit:
Attempts to conflate previous vandalism of the statue with the latest beheading are, in our view, missing the point.
The topplings of the past were certainly acts of vandalism and civil disorder in protest of historical grievances. But Quebec nationalists have traditionally seen themselves as the victims of those historical grievances. This new anti-Macdonald movement would, instead, present them as simply another flavour of oppressor. Any independent Quebec nation would itself be castigated as a colonial arm of cis-heteropatriarchic white supremacy.
There's a difference between vandalizing a lone statue as a symbolic retribution for wrongs past — and tearing it down to undermine the legitimacy of the very statehood that nationalists would one day wish to exercise. Men like Lisée therefore find themselves in the odd company of Conservatives like Erin O'Toole, who wish to uphold the symbolic virtues that the Macdonald statue represents — concepts like legitimate authority and statehood, self-governance, law and order, a unifying national narrative, etc. — despite the late prime minister's manifold bigotries and errors. 
There are, after all, lots of statues of dead white men to topple in Quebec. Most do not honour Anglos. 
---
On a final note: one of the stranger pandemic-recovery pieces to appear in recent weeks is Adam Radwanski's essay in last weekend's edition of the Globe and Mail. Radwanski begins with a seemingly sensible observation: given the scale and scope of the challenge of rebuilding the post-pandemic economy, "some semblance of collaboration" between the governing Liberals and the O'Toole-led opposition Tories might be a good idea. 
Radwanski even suggests appointing a cross-partisan public panel to devise a "consensus recovery roadmap" to guide — and even compel future governments. This would allow governments to take matters of political advantage out of the equation of pandemic recovery. 
It all sounds charming. Except for the fact that one of the biggest problems with Canada's pandemic response is not that there has been too much politicking interfering with the policies, but that there has been too little. At both federal and provincial levels, many elected leaders, terrified out of their minds, simply handed decision-making responsibility off to the public-health experts. To put it bluntly, our big problem wasn't that experts went unheeded, but that their advice went too often unchallenged. 
To propose eliminating the political element from a policy response that will see our governments spend perhaps a trillion dollars, over multiple election cycles, is nuts.
---
Roundup: